Homesick
Akash Babu Pedapaga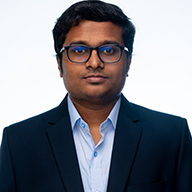 Have you ever been homesick? I think at present, I might be one of the people who can clearly explain how homesick feels! It's been nearly three months since I came to the US. I had to leave my home, my people and everything I have in India for my Masters in the US. At first, I felt happy and excited, but my urge to see my home is exponentially increasing as days go by. I always cherish the good times spent with my dear ones, and I look forward to going back home after completing my education.
Last week, I was meditating on Revelation 21-22, and the idea that my home is Heaven hit me hard. The apostle Paul penned, "For our citizenship is in heaven, from which we also eagerly wait for the Savior, the Lord Jesus Christ, who will transform our lowly body that it may be conformed to His glorious body, according to the working by which He is able even to subdue all things to Himself" (Philippians 3:20-21 NKJV). I just want to reflect on the thought of how homesick we ought to feel for our eternal home.
The other day, I saw a video on YouTube in which a mother recently took her kids to a brand-new home. The kids knew that they bought a home, but still, they were surprised by the size of the house. They asked, "Mom, why didn't you tell us that our new house is this big?" The reality is that the children could only know how big and beautiful their new home is after seeing it. We might ask the same question to our Father or the apostle John after reaching Heaven! Heaven is something that all the metaphors, poetry and prose in this whole world combined can't even describe a millionth part of what Heaven is like. Jesus in John's Gospel (14:2) said that there are places for us to dwell in our Father's house, and He is going to prepare a place for His followers. The Greek word moné means an abiding place and is translated as "mansion" (John 14:2) and "abode" (John 14:23). What a great feeling! We have mansions in which to dwell for eternity in Heaven! The apostle Paul wrote, "For we know that if our earthly house, this tent, is destroyed, we have a building from God, a house not made with hands, eternal in the heavens" (2 Corinthians 5:1).
I could personally connect the final verses of the book of Revelation to my present situation. Whenever I remember my home, the very first persons to strike my thoughts are my parents. Parents are the reason why every one of us loves home. It's neither the building nor the atmosphere. You won't feel at home when you can't hear your parents walking or talking at home. Revelation 21:22-23 speak about the glory of our Father illuminating Heaven.
The second most important set of family members I remember when I think about home is my brother. One can't imagine his or her life without siblings. Siblings always keep you engaged and knock on your door every hour of the day without any reason. Verse 24 speaks of the nations saved by the blood of the Lamb. All people (nations) are our brothers and sisters in Christ. First Thessalonians 4:17 records, "Then we who are alive and remain shall be caught up together with them in the clouds to meet the Lord in the air. And thus we shall always be with the Lord." This is a great feeling! We get to live with our Eternal Father, our Saviour, the Holy Spirit and all the faithful children of God for eternity. We can visualize these things if we are walking by faith (i.e., living a true Christian life). "For we walk by faith, not by sight. We are confident, yes, well pleased rather to be absent from the body and to be present with the Lord" (2 Corinthians 5:7-8). We can feel the joyful anticipation of being in our eternal home only if we are focused on Christ. The other day a brother said, "The longer we live the Christian life, the more we feel homesick for Heaven."
Several passages in the Bible make us realize that the world in which we live today is not our home. Paul expressed his homesickness for Heaven as a "groan" (2 Corinthians 5:2). I would like to remind you that Earth is not permanent. "For here we have no continuing city, but we seek the one to come" (Hebrews 13:14).
What if I lost my passport? What if I lost my visa? What if I lost my identity? There might be little chance for me to go back to my country. However, if we lose our identity (we are made in the image or identity of God, Genesis 1:27) there is no chance for us to go back to our eternal country. All of the people who are born on this earth have lost the image of God (Romans 3:10, 23). Yet, God sacrificed His only begotten Son so that we can regain His image (our original identity). Let me conclude with one of my favorite Scriptures from the letter to Hebrews. "And truly if they had called to mind that country from which they had come out, they would have had opportunity to return" (11:15).
My dear brothers and sisters, let us question ourselves. Am I thinking of the country in which I am supposed to live for eternity? Am I feeling the urge to go back to my Heavenly Father? If not, let us realize that the materialistic world in which we live today is not our permanent residence. Let us fix our eyes on things that are above (Heaven). Let us not fix our eyes on the world or on temporary sinful pleasures (Hebrews 11:25). Let us fix our eyes on Jesus, the Founder and Perfecter of our faith. Let us finish this run with endurance.

Click Here for a FREE monthly reminder when each new issue
of Gospel Gazette Online has been published to the Internet.
Click Here to send your comments about this page to
Gospel Gazette Online. If there is more than one article on the
page, be sure to specify to which article your comments apply.