Let the Bible Speak
Mbakwe Israel Madu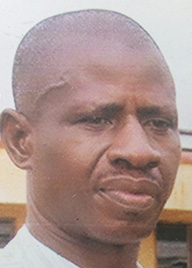 Greetings my Dear Reader. You may have heard or believed the saying in our religious world that "the church does not save." It is simply said but difficult if not impossible to be true. It is not only a rash but an unlearned conclusion to a true believer. You already know that God loves all His creations. The Bible affirms in John 3:16, "For God so loved the world that He gave His only begotten Son, that whoever believes in Him should not perish but have everlasting life" (NKJV). Why is it only those who believe that will not perish? Again, in 2 Peter 3:9, the Bible states, "The Lord is not slack concerning His promise, as some count slackness, but is longsuffering toward us, not willing that any should perish but that all should come to repentance." Why does God require repentance from His creatures? This is beautifully rendered in Hebrews 5:9, "And having been perfected, He [Jesus Christ] became the author of eternal salvation to all who obey Him." Why does God require obedience? Think right! He wants a "peculiar people" (KJV) or "special people" (NKJV) called the church (Matthew 16:18; Acts 2:47; 1 Peter 2:9).
We must understand that when the Bible talks about the church, it does not refer to a denomination. Neither does the Bible call cathedrals or buildings for religious assemblies the church. In this case, it is acceptable that church does not save when it is looked upon as a denomination or a building. Fortunately, too, all denominations demonstrate through their teachings and practices that there is no salvation in them either.
The Bible teaches that Christ saves those who obey Him (Hebrews 5:9), whom He adds to the church (Acts 2:47). All of this corresponds to the fact affirmed in Acts 4:12, "Nor is there salvation in any other, for there is no other name under heaven given among men by which we must be saved." Obviously, the church is comprised of saved people (i.e., individual Christians make up the body of Christ, 1 Corinthians 12:27-28), called the church of Christ (Ephesians 1:22-23; Romans 16:16). Accordingly, no unsaved person on the earth is a member of the church or a Christian. The church denotes a people being saved. How can we think otherwise?
Therefore, I encourage you my diligent Reader to rise against the rash and unlearned conclusion that "the church does not save" (2 Peter 3:16). The church of the Bible is the body of the saved, whose mission it is to take the saving Gospel to the whole world (Matthew 28:19-20; Mark 16:15-16). Many people in the religious world are not saved, who are ignorant of the Bible teachings about the church and who oppose the ordinances of Christ and God. They promote hyphenated Christianity or denominationalism that the Lord will root up (Matthew 15:13). The warning is plainly simple but with a severe penalty. The Scriptures assure the wise that there is salvation in only one church of the Bible built by Jesus Christ (Matthew16:18; Romans16:16; Ephesians1:22-23; 4:4). Don't believe those who claim and preach that "the church does not save;" it is a claim from the pit of hell. No wise person can afford to lose Heaven with all its glory. Therefore, understand that the church is a saved body of Christ, to which one must be added. There is only one of its kind.
What Is the Church of the Bible?
The church is a body of people who have been, 'called out of darkness into the marvelous light of Christ' (1 Peter 2:9) through their obedience to the Gospel of Christ (1 Corinthians 15:1-4). The church is, therefore, a spiritual body housing all the saved. I hope this is clear to you! Read 1 Peter 2:5 to discover that every Christian is a lively stone and a priest to offer up spiritual sacrifices acceptable to God by Jesus Christ.
Obviously, the church of the Bible – the church of Christ – can be positively identified. Its identifying marks and doctrinal features are so distinctly set forth in the New Testament that it can be readily distinguished from among the multitudes of sects and schisms arising from and dependent upon for their existence the doctrines and commandments of men (Matthew 15:8-9). See 2 John 9-10 to observe the tragedy of not abiding in the doctrine of Christ. I want to sound it loudly and clearly that the Lord needed and built only one church. So, He built only one. He certainly knew that all men could be saved through one church (Ephesians 1:22-23; 4:4). The question to why there are multitudes of churches today relates to predictions by the apostles of Christ about apostasy (Acts 20:29-30; 1 Timothy 4:1-3; 2 Timothy 3:1-7; 4:3-4; 2 Peter 2:1-3; Jude 17-19).
Men have often shown their displeasure with God's arrangements. They do this in their attempts to change the church of Christ. Men have either added certain things not authorized by God in His worship or specifically subtracted specific things required by God. The trend today is for men to substitute their methods and devices for those things that God originally placed in His church. We must be careful not to either add to or subtract from the wholesome Word of God, because the consequences are grave (Revelation 22:18-19).
No man can speak better things than God. Undoubtedly, God cannot send contradictory messages because He is not, as the Bible says, the author of confusion (1 Corinthians 14:33). The Bible warns, and I quote, "Now I urge you, brethren, note those who cause divisions and offenses, contrary to the doctrine which you learned, and avoid them. For those who are such do not serve our Lord Jesus Christ, but their own belly, and by smooth words and flattering speech deceive the hearts of the simple" (Romans 16:17-18). Note that the efforts of dissenters have developed a vast system of denominationalism, to which they append mention of the name of Christ in order to make it appear that unbiblical changes appear to have God's approval. They only deceive the naive and not the elect. Let it be made abundantly clear that no man has ever succeeded or will succeed in changing the church of Christ (Matthew 16:18). God will always have a remnant (Romans 11:5).
The true church of the Bible, the church of Christ to be precise, still consists, as it always has and as it always will of those:
Who are properly taught the Word of God – Christ's Gospel – (Mark 16:15; Romans 10:14-17).
Who have believed the Gospel of Christ (Hebrews 11:6; John 8:24).
Who have repented of their sins (Acts 2:38; 17:30).
Who have confessed the name of Jesus Christ as the Son of God (Acts 8:37; Matthew 10:32).
Who have been scripturally baptized for the remission of their sins (Mark 16:16; 1 Peter 3:21; Romans 6:3-4; Colossians 2:12).
Who faithfully worship in His prescribed manner without addition, subtraction or substitution (1 Corinthians 4:6; 1 Peter 4:11).
Who express their love for the Lord thereafter in faithful service and obedience (1 Corinthians 15:58), even were it to cost one's life (Revelation 2:10).
Conclusion
A warm welcome awaits you today if you will obey the Author of eternal salvation to be added to the church of the Bible – God's important, spiritual institution for the saved. God cares (Matthew 11:28-30; 28:19-20). If one can be saved outside the church, one can be saved without the blood of Jesus Christ – a mission impossible (Acts 20:28). You can worship with the church of Christ close to you or contact the Editors of the magazine in which this article appears at  editor@gospelgazette.com. They will help put you in contact with someone near you or direct you to biblical studies online or through the mail.

Click Here for a FREE monthly reminder when each new issue
of Gospel Gazette Online has been published to the Internet.
Click Here to send the URL for this page to a friend
Click Here to send your comments about this page to Gospel Gazette Online